Music Box Composer is a musical composing tool based on the physical 15, 20 and 30 note paper strip music boxes. It's notes are sampled from actual music boxes and you can play and share your creations without requiring the physical music boxes at all, but it is designed as a direct aid to creating the punch strips used for the Mechanical Music Boxes.
Designed to aid composing your own music prior to punching the paper strips for Music Boxes, this allows you to compose, preview, play, save and share your creations (via Facebook, Twitter, Email, or iTunes file transfer/Android local storage). Simulates 15, 20 and 30 note music boxes.
- Share your compositions with others via Facebook, Twitter and Email
- Multiple undo
- Disable Notes for temporary changes
- Ripple edits
- Save and Load (access the save location via iTunes File Sharing/Android local storage)
- Sounds sampled from physical Music Box for added reality
- Save strip to JPG file, then print, punch and play (180 gsm recommended)
The physical Music Boxes with the paper punch strips and are great fun – what was missing was an easy way to preview either transpositions or original creations. This app fills that gap.
We are building a library of Music Box Composer Strips – feel free to contribute.
Below is a short demonstration video of using Music Box Composer to go from composition to punched strip for a physical music box:
For a direct link to youtube: www.youtube.com/watch?v=jWxkoHcPbS0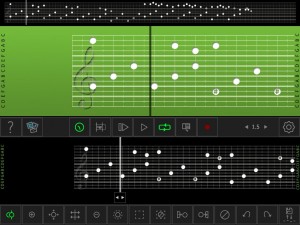 If you are interested in physical music boxes, they can be ordered online from nice people like these: